A tractor is a major purchase for your property or business, and we understand your need to research which machine will serve you best. After all, you'll spend decades with your tractor, so a few hours of research are justified. This article covers tractor specifications comparisons for six of the most common brands on the market today.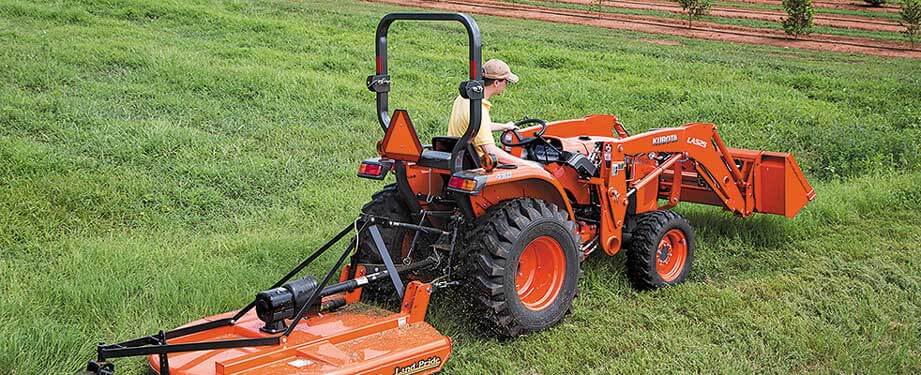 See the Top Tractor Comparisons
This article breaks down the following tractor brand comparisons:
Feel free to explore each individual small tractor comparison article depending on which brand interests you the most.
If you'd like to cut to the chase, check out the line of Kubota tractors in the Greater Houston Area that Bobby Ford Tractor and Equipment carries to test drive your next machine today!

Kubota vs. John Deere
Kubota and John Deere are two of the most popular and highly-acclaimed tractor brands on the market today. The video above covers a compact tractor comparison between the two brands, while our article below covers a sub-compact tractor comparison.
Depending on whether you need your compact or sub-compact tractor for back-hoeing, mowing or other tough jobs on your land, you can consider factors like control, comfort, and horsepower into your comparison.
Learn more today with our Kubota vs. John Deere Tractor Comparison
Kubota vs. Massey Ferguson
Within the past decade, Massey Ferguson moved the production of its high-horsepower tractors from France to Jackson, Minnesota. A mid-size tractor comparison of the 100.5 cu-in engine in the Kubota L2501 to the turbo 91.3 cu-in engine in the MF 1726E, shows that the Kubota compact tractors can deliver more power at lower RPMs.
During your tractor specifications comparisons, be sure to consider warranties, service, and parts availability. Kubota has worked to build a reliable network of over 1,100 dealers in the U.S. Alternatively, Massey Ferguson lists around 700 dealers in its U.S. network.
Learn more today with our Kubota vs. Massey Ferguson Tractor Comparison
Kubota vs. New Holland
New Holland is a global agricultural and construction equipment company headquartered in Pennsylvania. On the agricultural side of their production, they produce tractors, seeding equipment, combines, UTVs and a professional servicing team.
The article below is a compact utility tractor comparison between the New Holland Workmaster 35 and Kubota L3560. Within the article, we also compare tractor specifications between the New Holland Boomer and Kubota BX2680. This utility tractor comparison is important, as both of these tractors are major investments due to their size and versatility.
Learn more today with our Kubota vs. New Holland Tractor Comparison
Kubota vs. Mahindra
Kubota and Mahindra have both established a strong presence in the United States since the 1990s. Mahindra has five assembly and distribution centers in the U.S., but it still outsources the manufacture of certain engines, tractors, and accessories. The Mahindra eMax 25 is a re-badged tractor manufactured by TYM, and Mahindra has been known to outsource engines from Perkins and Mitsubishi.
One attribute to customers looks for on a tractor comparison chart is top speed. Consumers frequently compare the Kubota L3301, boasting a top speed of 14.1 mph, with the Mahindra 1533, that can reach a speed of 11.9 mph.
The tractor comparison review in our article below speaks to other aspects of customer service, size, and safety.
Learn more today with our Kubota vs. Mahindra Tractor Comparison
Kubota vs. Kioti
We start this sub-compact tractor comparison off by clearing up a common misconception: Kubota and Kioti are two distinct companies.
In 2002, Kubota (a Japanese company) engaged in a nearly five-year-long lawsuit against Daedong Industrial Corporation (a South Korean manufacturing firm) and the U.S. distributor of its Kioti tractors. Kioti allegedly infringed on its trademark and trade dress by using the unique Kubota orange color and hood designs. Both tractor manufacturers use the orange color scheme for the bodywork of their machines today.
Learn more today with our Kubota vs. Kioti Tractor Comparison
Kubota vs. Yanmar
Yanmar's YT347C diesel tractor and Kubota's MX4900 diesel tractor are frequently pitted against each other in tractor comparison tools. In a head-to-head matchup, Kubota comes out on top in terms of engine horsepower, fuel capacity, and PTO.
Yanmar tractors are designed and assembled in Adairsville, Georgia, at the company's facility. Yanmar engineers and technicians at the facility also carry out part replacements and servicing.
Learn more today with our Kubota vs. Yanmar Tractor Comparison
Kubota vs. LS Tractor
There are over 100 LS Tractor offices and subsidiaries in more than 25 countries. All LS Tractor parts are manufactured in Korean-based plants, and they've been in the U.S. for just over a decade.
Kubota, in contrast, has had a Texas presence since 1982 and employs thousands of U.S. workers with its U.S. manufacturing base in Gainesville, Georgia. See our tractor comparison that includes one of the popular models at Bobby Ford Tractor and Equipment, the Kubota L2501 in the Greater Houston Area.
Learn more today with our LS Tractor vs. Kubota Comparison
Get a Quote on Your Next Tractor from Bobby Ford Tractor and Equipment Today!
At Bobby Ford Tractor and Equipment, we carry several product lines and brands that are sure to meet the needs of your small farm, land maintenance, or road department crew! As an authorized Kubota dealer in the Greater Houston area, we carry some of the highest-rated machines out there.

The content on this site reflects my own opinions and does not necessarily reflect the views or opinions of my employer or Kubota Tractor Corporation.