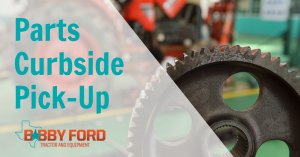 Curbside Parts Pick-Up
Simply order your part over the phone and visit our showroom to pick it up. One of our associates will meet you at your car and place the part in your trunk after verifying your driver license. Call for details.
If you have questions about the availability of a specific part, please call our showroom at 979-849-5400 and a specialist will be happy to assist you. Our parts department hours are Monday – Friday: 7:30 a.m. – 5:30 p.m., Saturday: 8:00 a.m. – 3:00 p.m., and closed on Sunday.