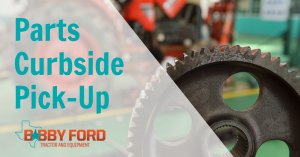 Curbside Parts Pick-Up
Simply order your part over the phone and visit our showroom to pick it up. One of our associates will meet you at your car and place the part in your trunk after verifying your driver license. Call for details.
At Bobby Ford Tractor and Equipment, we're proud to offer you a wide selection of parts backed by outstanding service from our expert staff. Fill out the form below and an associate will contact you to confirm part availability.