When looking to purchase a tractor for your large property, farm, landscaping operation, or road crew, you'll probably come across two categories: compact tractors and sub-compact tractors. While both classes of machine have their strong suits, every job is unique and may require a specific type.
This guide will help you decide what size tractor you need.

Difference Between Compact and Sub-Compact Tractors
Before investing in a new tractor, it's important to know the key differences between compact and sub-compact. Let's take a closer look at each model.
What Is a Compact Tractor?

Compact tractors are commonly used for mowing, landscaping, gardening, snow clearing, and animal management. This larger-framed tractor is ideal for wooded areas, rugged terrain, and hauling and pulling large loads.
Advantages
Weight & Frame – Compact tractors typically weigh more and have more frame structure than sub-compact variants, allowing them to handle more work. They are also built with higher ground clearance, proving to be slightly more efficient on rough terrain than sub-compact models.
Performance – Compact tractors will allow you to complete your tasks in record time with no hassle. These models are designed for optimal functionality, with higher capacity and bigger buckets.
Ease of Operation – Kubota compact tractors' controls are designed for efficiency and comfort. In addition, the machines provide plenty of foot and leg room for easy operation.
Considerations
Storage – Keep in mind that compact tractors are on the larger side, potentially making them more cumbersome to store. If you're working with limited storage space and don't want your tractor spending time outside in the elements, you may want to consider the smaller, sub-compact alternative.
Implements – It's important to note that the three-point hitch works differently in compact and sub-compact tractors. In compact models, the controls move up and down, and in sub-compact models, you'll get positions 1-8. Depending on the selected position, your instrument will consistently drop to the same position. For some people, this can be necessary, making compact models the ideal choice.
What Is a Sub-Compact Tractor?

Sub-compact tractors offer a lot of the same benefits as compact tractors, and they typically cost less and take up less space. With power steering, four-wheel drive, and a diesel engine, the smaller frame of a sub-compact offers all the versatility of a larger tractor. Their smaller frame and lower ground clearance make them ideal lawn and garden tractors.
So, are sub-compact tractors worth it? Sub-compact tractors are comfortable, accessible, and easy to maneuver. For first-time tractor owners with only a few acres of land to manage, sub-compact is the way to go.
Advantages
Operator Comfort – Sub-compact tractors are equipped with features that are designed for operator comfort. Smooth steering, plenty of foot room, and fully-padded, adjustable seating all make the sub-compact ideal for individuals maintaining lighter duty landscapes.
Performance – Every Kubota sub-compact tractor is equipped with state-of-the-art features, yielding the best performance possible. Large fuel tanks require fewer refills, allowing you to work longer, and a 3-cylinder diesel engine enables you to climb, pull, and haul the heaviest of loads. In addition, these tractors are equipped with a strong and durable metal hood and fenders that are included to protect your Kubota diesel engine.
Adaptability – Sub-compact tractors are capable of maneuvering tight spaces, unlike larger models. They fold quickly and without tools, which is beneficial for low-clearance areas. They can also be easily stored in sheds and garages.
Implements & Attachments – Sub-compact tractors come with add-ons and attachments that can be beneficial for the user. Additional tractor implements include post-hole diggers, landscape rakes, grading scrapers, quick-attach loaders, snow blades and more.
Considerations
Usage expectations – It's important to be practical with your sub-compact tractor expectations. While these tractors can move large loads, they're not the best fit for every job. Sub-compact tractors are best suited for 1-5 acres of land, depending on the terrain and other environmental factors.
Ground clearance – Subcompact tractors are not made for rugged terrain. These tractors are built low to the ground, which is perfect for sloped properties, but just not practical for heavily wooded areas.
Kubota BX and B Series
Now that we know the ins and outs of compact vs. sub-compact tractors, let's explore the specs of Kubota's BX and B series models.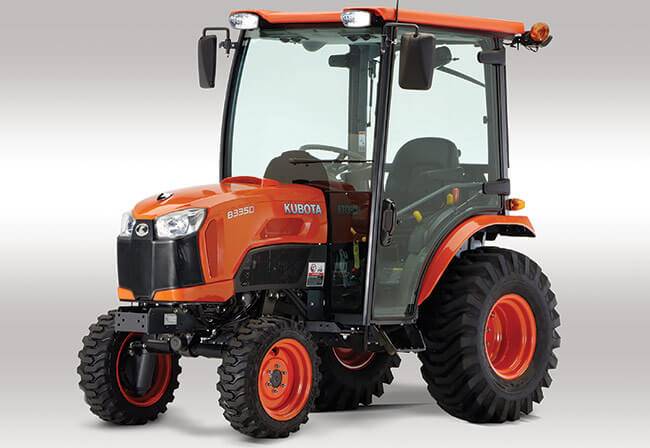 Compact Tractor: Kubota B Series Features:
Engine type – E-TVCS, liquid-cooled, 3-cylinder diesel
Transmission – HST (3 ranges)
Brakes – multi-plate wet disc
Fuel tank capacity – 6.1 gal (23 L)
Lift capacity @ 24" behind pin – 1411 lbs (640 kg)
Forward speed – 0-12.7 mph (0-20.4 km/h)
Reverse speed – 0-9.5 mph (0-15.3 km/h)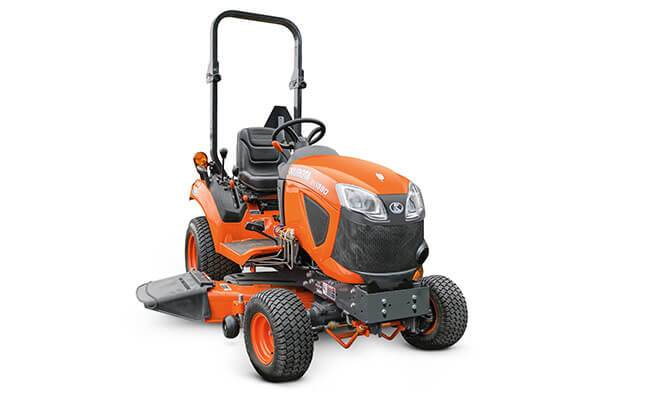 Sub-Compact Tractor: Kubota BX Series Features:
Engine type – liquid-cooled, 3-cylinder diesel
Transmission – HST, High-Low gear shift (2 forward/reverse)
Brakes – wet disc
Fuel tank capacity – 6.6 gal (25 L)
Lift capacity @ 24" behind pin – 680 lbs (310 kg)
Forward speed – 0-8.4 mph (0-13.5 km/h)
Reverse speed – 0-6.5 mph (0-10.5 km/h)
Here are a few features the two series have in common:
Hydraulic power steering
Range selectors
Hydrostatic pedals
Loader sticks
PTOs
When it comes to compact vs. sub-compact tractors, both can handle hefty workloads. However, if you're looking to cover several acres of land and finish the job done as quickly as possible, the B series tractor is for you.
Contact Bobby Ford Kubota for Your Compact and Sub-Compact Tractor Needs
Now that you know the difference between compact and sub-compact tractors, you should be able to make an informed purchase decision. It's always best to do as much research as possible before making a long term tractor investment, so if you have any questions, don't hesitate to reach out to our team of specialists.
Bobby Ford Tractor and Equipment is a reputable Kubota dealer in the Greater Houston Area. To request a quote or schedule an appointment to see our compact and sub-compact tractors in action, contact us online today.

The content on this site reflects my own opinions and does not necessarily reflect the views or opinions of my employer or Kubota Tractor Corporation.