There's no denying the convenience you get with a multi-purpose machine. Whether it's a construction site or an agricultural project, you need the right equipment for the job. But, how do you know if your digging project calls for a backhoe or excavator? We'll cover the differences between the two machines, so you'll know exactly what will work best.
Excavator vs. Backhoe: The Basics
Anyone asking the question "is a backhoe the same as an excavator" is understandably confused. Of course, both pieces of equipment are digging machines, but they also have different best uses.
An excavator is used for digging, but it is also effective for demolition and heavy-duty drilling projects. The best mini excavators are also effective for some forestry projects like removing heavy undergrowth.
Backhoes are also digging machines, but you can attach a range of tools like hammers, drills, rakes, and more to expand their use.

What's the Difference Between a Backhoe and an Excavator?
Knowing the differences between an excavator vs. a backhoe will make it easier to choose the best machine for your home, construction, or agricultural projects.
Size
When comparing a back hoe vs. an excavator, the first difference you notice is size. Excavators are noticeably larger than backhoes. The excavator's larger size makes it ideally suited for industrial projects like shaft drilling, rock blasting, and demolition.
The smaller backhoe is easier to maneuver. As a result, it is often used for loading, smaller construction projects, and agricultural applications.
Versatility
Both types of machines are compatible with various attachments, but you get more options with a backhoe. Something else to consider is transporting the heavy equipment between job sites. Backhoes are street legal, while excavators require loading on a truck.
Mobility
A backhoe is often the better option if you need to use the machine across multiple job sites. Backhoes can mostly be driven on the street, and many have a top speed of 25 mph. Unfortunately, excavators are not always street legal. Therefore, you will have to load the machine onto a truck.

Storage and Transportation
Storing and transporting a backhoe vs. an excavator is something you want to consider. Excavators are typically larger than backhoes unless you are using a mini machine.
Compact excavators are easier to store than backhoes, but you still have to deal with transportation. Many excavators, regardless of size, must be transported by another vehicle.
Rotation Ability
The machine's rotational ability often determines how effectively the equipment performs a task. For example, comparing a backhoe loader vs. an excavator, you'll notice only one option is capable of pivoting 360 degrees.
Kubota excavators have a wider rotation ability at 360 degrees, while backhoes are limited to around 200 degrees.
Application
Your project determines if you need a backhoe or excavator. For example, mini and standard size excavators provide the power you need to dig trenches, build foundations, and complete demolition projects.
Medium and smaller size jobs are better suited for a backhoe. Think of projects like load breaking, landscaping, and moving materials. Civil engineering projects often use backhoes.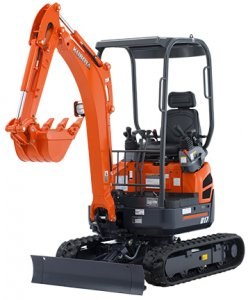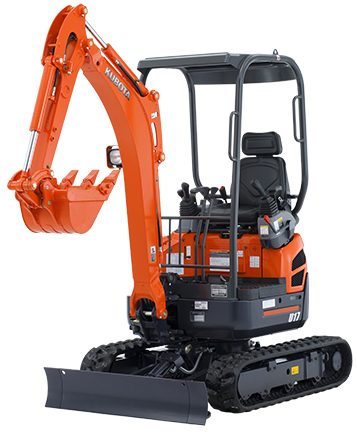 Which One Makes More Sense for You?
Which one is right for you, a backhoe or an excavator? The answer depends on your current project, but it's also a good idea to think about future work. Will you be able to use the machine on future projects?
Explore the Different Models at Bobby Ford Kubota
Are you ready to invest in a backhoe or excavator? Maybe you have questions about which machine is best suited for your projects. The experts at Bobby Ford Tractor and Equipment are available to answer any questions about our equipment and service specials.
Ready to get started? Contact us online or call 281-306-9549 today for more details about our line of new and used Kubota equipment.
The content on this site reflects my own opinions and does not necessarily reflect the views or opinions of my employer or Kubota Tractor Corporation.