When it comes to Kubota excavators, you need to make sure you're choosing the one with the right size and features for your job. Let's discuss how to do just that.
Jobs That Require Excavators
With a compact excavator, you can handle the toughest industries' jobs with ease. Here are a few of the most common applications for excavators from Kubota and other trusted brands.
TRENCH DIGGING
Digging trenches is typical for many industries and applications, whether it's for setting foundations or installing wires and pipes. Excavators are one of the most efficient ways to get this job done. With a simple bucket attachment, excavators can be used to effortlessly dig and scoop, creating trenches in no time.
FORESTRY
In forestry, excavators can be used to move branches, create access routes, cut, shear, and more. Easily manage your greenery with shears, mulchers, and various other attachment options.
LANDSCAPE GRADING
Grading in landscaping is used to create a level ground for new buildings and other architecture projects. With the right excavator and a steady hand, you'll have your land perfectly leveled before you know it.

DIGGING HOLES
You never know when you'll have to dig a hole! With mini excavators, you'll have the ability to travel around the site, even accessing tough-to-reach areas. Using compact excavators to dig holes can speed up projects, saving time and effort.
DEMOLITION WORK
Additionally, homeowners can save time and money by using a compact excavator for small demolition work. These compact machines are great for demolishing structures like old barns or sheds. You can even attach a breaker to perform more heavy-duty demolition tasks. In addition, high-quality excavators from Kubota and other valued brands offer stability and safety features for a safer work experience.
Why Kubota Is the Trusted Excavator Brand
When you need a versatile excavator that can fulfill all your towing and hauling needs, look no further than Kubota compact excavators. Kubota offers two highly rated, compact excavator models: the U series and the K series. These high-performing machines offer convenience, durability, and comfort all in one.

Types of Kubota Excavators
So, why so many people are replacing their backhoes and skid steer loaders with Kubota mini excavators? Well, Kubota compact excavators are great for maneuvering in tight places that larger equipment just can't reach! So, let's explore the two different excavators Kubota has to offer.
Kubota U Series Excavators
The Kubota U series excavator lineup includes the U17, U25, U35-4, and U55-4. Powered by first-in-class Kubota Tier 4 emission engines, all Kubota excavators (U series included) are designed for maximum performance and minimum noise. You will also have peace of mind knowing they are always up to date on the most recent engine emission regulations.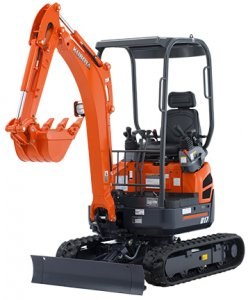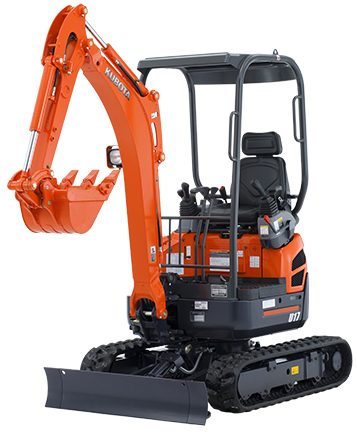 In addition, the spacious operator station on the U series features a fully flat floor with plenty of legroom. Users have easy access to indicators and alerts thanks to a convenient digital panel that is included in the setup. Achieve optimal maneuverability and efficiency with a 2-speed drive. The possibilities are endless with the number of compatible attachments and tools the Kubota can sport, such as:
Canopy Lights
Hydraulic Hammer
Hydraulic Thumb
Pin-On Buckets
Quick Attach Buckets
Quick Coupler
Spark Arrest Muffler
Steel Tracks
Travel Alarm
Kubota K Series Excavators
The Kubota K series excavator lineup includes the K008-3, KX018-4, KX71-3, and KX033-4. These excavators combine maneuverability and reliability with power to help you tackle any job that comes your way. These compact excavators are top in their class for their outstanding utility and operation.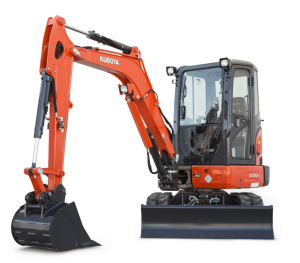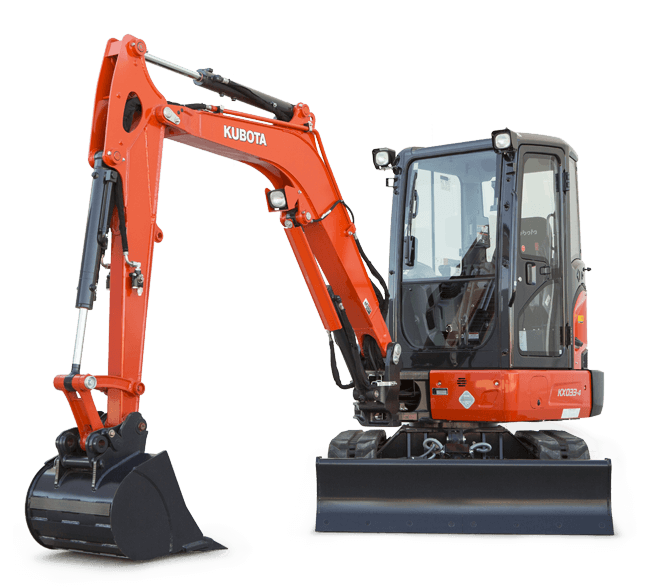 Available attachments and accessories include:
Hydraulic Breaker
Hydraulic Thumb
Pin-On Bucket
Quick Attach Buckets
Quick Coupler
Canopy Lights
Travel Alarm
In addition to the U series, the K series is also powered by the Kubota Tier 4 emission engine for maximum performance. In addition, the K series includes a vast selection of auxiliary and hydraulic attachments. This deluxe machine was designed with convenience and comfort in mind—all for an affordable price!
Check out our complete list of K series specs.
Finding the Best Kubota Excavators Near You
In conclusion, we hope this guide helped you learn more about what Kubota excavators have to offer. The U Series and K Series provide convenience, comfort, and power—without breaking the bank.
Bobby Ford Tractor and Equipment is an authorized Kubota dealer serving the greater Houston area. We offer a wide selection of U Series and K Series Kubota compact excavators.
Contact us online today or visit our Kubota showroom in Angleton, TX to find out more about our excavators!
The content on this site reflects my own opinions and does not necessarily reflect the views or opinions of my employer or Kubota Tractor Corporation.