RTV-X1140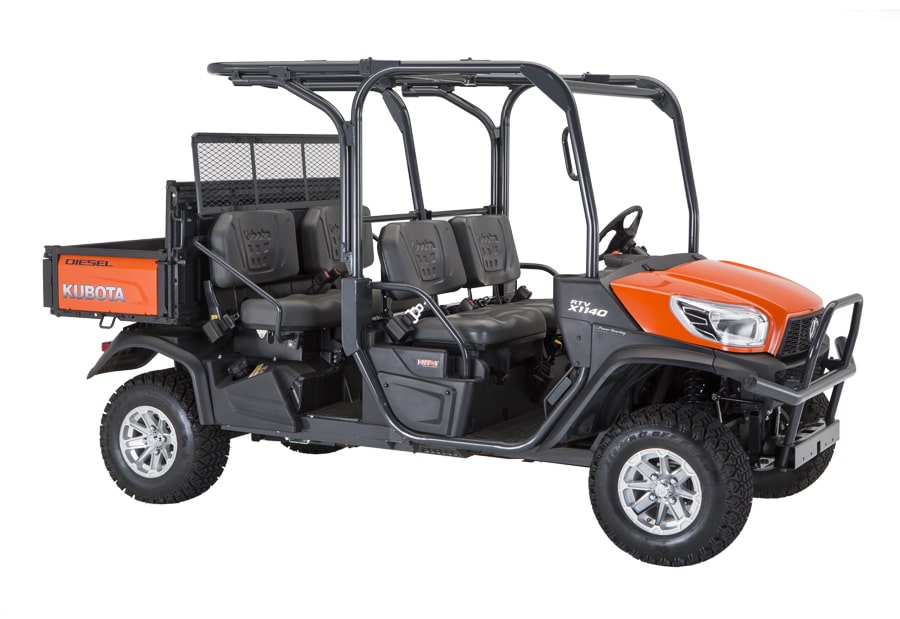 Designed to adapt to your needs, this model of Kubota recreational vehicle easily transitions from hauling cargo in the hydraulic dumping bed to transporting friends and family with the second row of seating. Packed with convenient features and powered by a proven 24.8 HP Kubota diesel engine. Available in Realtree AP camouflage.
The RTV-X1140 is a versatile utility vehicle that makes it easy when you have cargo to haul – just flip up the rear seat and fold down the cargo bed. The RTV-X1140 can convert from a 4-passenger vehicle into a 2-passenger RTV with an extra-large cargo bed with pole-free access for easier loading. With its industry-leading cargo capacity and a standard hydraulic bed-lift, you'll make short work of dumping tasks and cargo-heavy projects.
CALL US
COMPARISON
REQUEST TRADE VALUE
The powerful, 3-cylinder liquid-cooled diesel engine delivers up to 24.8 HP and has earned a well-deserved reputation for reliability and superior performance in the most rugged terrains. The RTV-XX1140 features a strong, high-rigidity steel frame that isolates passengers from loud noises, excessive vibrations, and provides a smooth ride. This durable frame can hold up even after years of frequent usage on rough terrains.
All four wheels feature independent suspensions, ensuring you a truly exceptional and smooth ride. You can also adjust the front and rear suspension height to achieve optimal results for heavy loads or difficult roads. The RTV-X Series uses multi-disc wet brakes for increased durability and more control when driving down steep inclines. If you need a rugged and reliable utility vehicle to get the job done right the first time, look no further than the RTV-X1140.