Kubota SVL65-2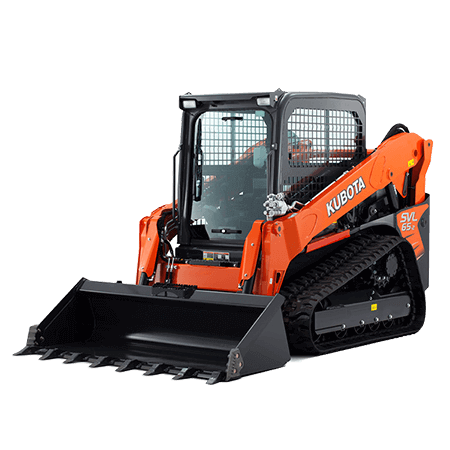 Don't just finish the job, dominate it behind the controls of Kubota's compact track loader, the SVL65-2. Whether hardscaping or landscaping, you'll experience nimble maneuverability, power and comfort in the orange track loader.
Advanced hydraulics and 68.3 horsepower ensure you won't have to back down from a challenge and the SVL65-2 loves a good challenge.
This new compact track loader has the performance, operability, and comfort you need to take on and finish the job.
CALL US
REQUEST TRADE VALUE
ADVANCED MULTIFUNCTION VALVE (SVL65-2)
The SVL65-2's hydraulic system features an innovative Advanced Multifunction Valve that provides smooth movements of all hydraulic functions when operated simultaneously. The AMV now allows operators to run the AUX hydraulics, bucket and loader arm functions together without stalling.
WIDER CAB ENTRANCE
The wider cab entrance, with a 36" side-screen to side-screen width, allows operators to comfortably pivot when looking to their rear. In addition, a high back seat provides back support from shoulders to lower torso. A comfortable operator is a productive operator.
EASY-OPENING SLIDING FRONT DOOR
When equipped with a cab enclosure, the cab door slides up and down to improve ingress and egress. Operators can pin the door in the open position and continue to operate with the door open, so there is no need to remove the door and store it where it can get lost or damaged. Front doors can be opened regardless of the loader position.
INTEGRATED MAINFRAME AND UNDERCARRIAGE
Because Kubota designed compact track loaders first, their platform is different from the skid steers. So, unlike "skid steers turned compact track loaders" with bolt-on undercarriages, Kubota's integrated undercarriage is welded with no exposed hoses or openings, providing a sturdier and more durable design.
ELECTRONIC TRAVEL TORQUE MANAGEMENT
The electronic travel torque management system lets you work faster with more power. By optimizing hydraulic performance when pushing or moving heavy loads, the system prevents engine stalling allowing for faster recovery.
AVAILABLE WITH LOW EFFORT HYDRAULICS PILOT CONTROLS
Work next to home structures and curbs with confidence. Different from Electro-Hydraulic Controls, these hydraulic controls provide maximum feel and precision – with no adjustments or settings necessary. Start moving when you think you're going to start, and stop moving when you think you're going to stop.
STANDARD 2-SPEED TRAVEL AND ONE-WAY SELF-LEVEL
Shift from low gear to high gear to get the job done faster. One-way hydraulic self-leveling helps keep the bucket or pallet forks in a horizontal position without the need to manually adjust the angle during lifting.
RUGGED LOADER ARMS DESIGN
Robust and tightly secured loader arms linkage that can do both radial and vertical lift operations.