Mowing is an important job for both residential and professional landscaping and maintenance settings. Whether the job is simply making your outdoor spaces look outstanding or providing landscaping services to clients, finding a mower that has the appropriate specifications and features that you need is vital.
For some, the priority is having a comfortable mower to take care of their own lawn. Others are on the lookout for a mower that's durable enough to maintain a high level of efficiency on job after job. Either way, knowing the qualities and strengths of various mowers will help you find a machine that suits your precise needs.
In this blog post, we will compare the features of the Kubota ZD 1211-60 mower with those of the Ferris IS 2600Z. These are both professional-grade mowers and they are comparable in many ways, but they also offer distinct user experiences and specifications.

Consider the following information as you search for the machine that is best for your residential or commercial mowing needs.
Ferris vs. Kubota Mowers
To contrast the features of the Ferris IS 2600Z with the Kubota ZD 1211-60, we will explore a range of features, including engine specs, dimensions, transmission, cutting specifications, and fuel tank capacity. These factors clearly show why the Kubota ZD 1211-60 zero-turn premium diesel mower is one of the leading mowers on the market today.
Engine Specs and Speed
A mower's engine determines the strength that it can bring to any mowing job. The amount of horsepower that a given engine can harness will regulate how much speed and power are available to get the job done.
The Kubota ZD 1211-60 features a Kubota D1105-E4-ZD-2 engine, which is triple-cylindered, liquid-cooled, and diesel-powered. It offers a maximum HP of 24.8 at 3000rpm and a total displacement of 1123 (cc).
Alternatively, the Ferris IS 2600Z houses a Yanmar triple-cylindered, diesel engine. It provides a maximum HP of 24, with a total displacement of 904 (cc).
Engine specifications are incredibly important for those in need of the power to handle large areas or rough terrain, as well as those who require speed for efficient mowing.
Dimensions
The Kubota ZD 1211-60 is sized as follows:
Length – 89 in.
Width w/mower – 73.8 in.
Width w/o mower – 59.4 in.
Height w/ROPS upright – 78.7 in.
Height w/ROPS folded – 64.6 in.
The Ferris IS 2600Z is sized as follows:
Length – 88 in.
Width w/Deflector Down – 76.75 in.
Width w/Deflector Up – 63.5 in.
The optimal dimensions of a mower will differ depending on the parameters of the yard or land area. For instance, a large yard with rough terrain and many trees will require a different sized mower than a small yard with smooth grass and no obstacles. Our resource will help you determine the best lawn mower size for your acreage.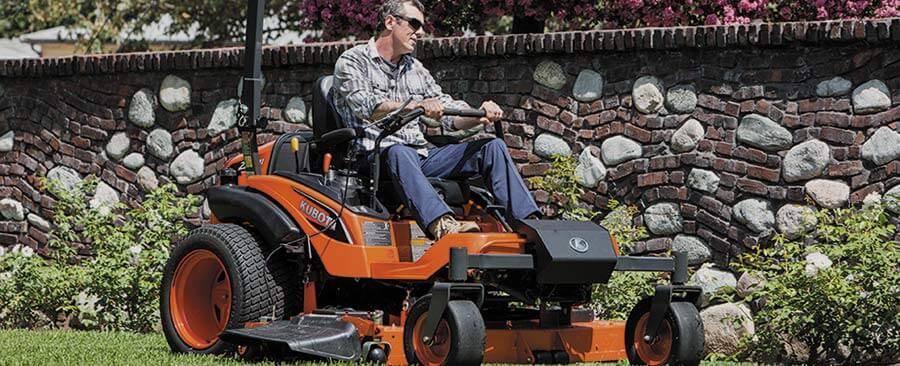 Transmission
The Kubota ZD 1211-60 features a 2-HST transmission with Gear Reduction. Alternatively, the Ferris IS 2600Z houses a dual commercial Hydro-Gear ZT-4400 transmission.
Cutting Specifications
The Kubota ZD 1211-60 features a cutting width of 60 inches. It houses three precision blades that offer a cutting height range of 1-5 inches.
On the other hand, the Ferris IS 2600Z can offer a cutting width of 61 inches with a cutting height range of 1.75-5 inches.
Capacity of Fuel Tank
Differences in fuel tank capacity are a relevant factor to consider when determining which mower will offer you the level of usefulness, cost-effectiveness, and efficiency that you require for your mowing jobs. Larger fuel tank capacities will generally result in the need for fewer tank refills when mowing sizable spaces.
The Kubota ZD 1211-60 features a fuel tank with a 12.9 gallon capacity.
The Ferris IS 2600Z houses a fuel tank with a capacity of 11 gallons.
Are Ferris Mowers Any Good?
Ferris Industries has been manufacturing commercial lawn mowers since 1986 and has become a well-known name in the lawn mower industry. They currently offer a range of commercial mowers at a variety of price-points.
Kubota was established in Japan over 120 years ago and has been a powerhouse in the industry of powered equipment with a domestic presence since 1972. Through innovation and a range of premier quality products, Kubota has cultivated a long tradition of excellence.
Bobby Ford Is Your Home for Reliable Kubota Mowers
After seeing the side-by-side comparisons of Ferris and Kubota mowers, we trust that you can see the evidence that Kubota's tradition of excellence carries through to these powerful and efficient modern mowers.
Bobby Ford Tractor and Equipment is a trusted Kubota dealer in the Greater Houston Area. To schedule a virtual appointment to see one of our East Texas Kubota Zero-turn mowers in action, contact us online today.

The content on this site reflects my own opinions and does not necessarily reflect the views or opinions of my employer or Kubota Tractor Corporation.