For a property owner with a couple of acres or more, mowing the lawn can take up a significant amount of your week. If you're in the market for a new mower, our team can help you evaluate which machine might best suit your needs and preference.
Before making a decision, ask yourself two important questions:
Am I looking for a zero-turn vs. riding mower?
If you're unsure about question #2, answering the first question will generally help guide your decision.
This article will compare Cub Cadet vs. Kubota riding mowers and lawn mowers so that you can make the most informed purchase.
Don't let low prices be your deciding factor. Like we established, you'll spend hundreds of hours on your Kubota Mower over the coming years – make sure you consider all the mower dimensions.
Cub Cadet vs. Kubota Riding Mowers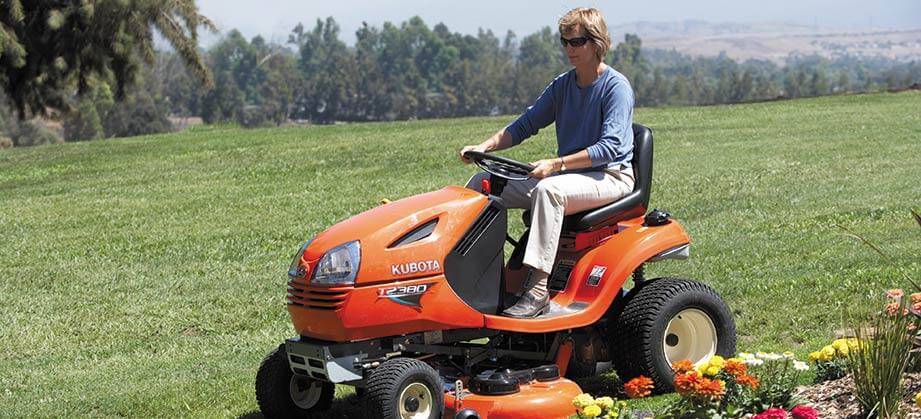 The specs covered in this first section address riding mower performance, comfort, quality, and style. We'll match up the Cub Cadet XT1 LT46 and Kubota T2380 for an apples to apples breakdown. Both models are riding mowers, but which one is truly best for your lawn care needs?
When you're ready to check out our lineup of reliable machines, check out Bobby Ford's Kubota riding mowers today!
Dimensions
The mowing deck widths are similar, but the Kubota model comes in slightly larger at 48", while the Cub is 46". Both widths are small enough to get your mower between tight flower beds without having to extend mow time, but the Kubota T2380 will require fewer passes and turn-arounds.
The Kubota T2380 riding mower takes the cake on this matchup.
Engine Specs & Speed
These Cub Cadet and Kubota riding mowers both include 725cc engines, which is why we chose them for our comparison.
The Kubota sports a GH738V, two-cylinder naturally aspirated gasoline engine providing 22HP. This allows the T2380 to reach a forward speed of up to 5.6mph.
The Cub uses a twin-cylinder Kohler® engine with a 22HP output as well. This empowers the XT1 LT46 to reach a forward speed of 5.5 mph.
At the end of the day, the Kubota mower clocks in just slightly faster than its Cub Cadet counterpart.
Cutting Specs
We've already established that the Kubota deck is 2" larger than the Cub's 46" deck width. When it comes to the range of deck heights available, both mowers can be adjusted from 1" to 4" depending on your needs.
However, the Kubota T2380 uses a dial gauge to raise and lower the deck, while the Cub Cadet requires you to pull a lever. This is a more subjective mower feature – if you prefer pulling the lever while you mow to avoid scalping your lawn, you may choose the Cub Cadet in the end.
Transmission
Both the Cub Cadet and Kubota riding mowers use a hydrostatic foot transmission for ease-of-use. When you want to speed up, rock the pedal forward. When you need to slow down, rock the pedal back toward your seat.
Cub Cadet vs. Kubota Zero-Turn Mowers

If your answer to our second question at the beginning of this article was "riding mower," this section will help you disseminate some important information.
We compare some dimensions between the Kubota Z231BR-48 and the Cub Cadet ZT1 42. This Kubota vs. Cub Cadet comparison puts the popular Kubota Z200 mower series on display against the ZT1 42. The following sections will cover dimensions, engine specs, and transmission details of the two brands.
Check out Bobby Ford's Kubota zero-turn mowers in Houston if you're ready to take a closer look.
Dimensions
The Kubota Z231 sports a 48" cutting width and overall 61.1" machine width. The Cub model is 54 total inches wide, with only a 42-inch cutting deck. This means it can fit between smaller gaps in your flower beds, but it will require more passes on your lawn.
The Kubota weighs in at around 737 lbs. while the Cub is only 500 lbs. If you have a soft yard, the Cub is the lighter choice. If you need a rugged machine that can quickly cut your lawn and even hug a hill when the circumstances call for it, the Kubota is your winner.
Engine Specs & Speed
Both zero-turns have an engine output of 22 HP, but the Cub requires 725cc while the Kubota engine does it will a 724cc engine.
When you compare fuel tank sizes, the Kubota sports a 3.6-gallon tank, while the ZT1 42 holds a lesser 3.5 gallons. This means you can mow ever so slightly longer with the Kubota before running dry.
Transmission
The Kubota is equipped with a ZT3100 2-HST with gear reduction. This allows it to reach up to 8 mph. Conversely, the Cub Cadet uses a Hydro-Gear EZT 2200 that helps it reach only 7 mph. If you need to cover distance quickly, the Kubota Z200 series mower may be the answer.
Bobby Ford Tractor and Equipment Carries Top-notch Kubota Mowers
To make your next purchase, visit Bobby Ford Tractor and Equipment, a leading Kubota Dealer in the Greater Houston area. Our team of professionals is happy to show you around the showroom and talk with you about what makes our Kubota machines the highest-quality.
Kubota mowers are rugged and built to last. They're crafted with ergonomic comfort, style, and the top performance in mind. Contact us for a quote online today!

The content on this site reflects my own opinions and does not necessarily reflect the views or opinions of my employer or Kubota Tractor Corporation.