Kubota's latest addition to their lineup of mid-sized utility vehicles is the RTV520. With a new look and upgraded features, the gas-powered RTV520 is certainly a step up from the Kubota RTV500. While these professional-grade UTVs are similar in many ways, there are many distinct differences. In this article, we'll explore the new RTV520 Kubota reviews so you can determine which Kubota is best suited for your needs.
Ease of Operation
In the new Kubota RTV520, operators will experience a smooth and comfortable ride. It's easy-to-use and suitable for almost every terrain and environment imaginable. An upgraded suspension, softer seat, and enclosed cab offer added comfort and protection from the elements. The tight turning radius, slim stature, and maneuverability of the new RTV520 allow this UTV to easily access any area with narrow roads or spaces.
Plus, the large cargo bed allows easy access to the machine's components for quick and simple maintenance. Also, since the variable hydrostatic transmission has no belt, there is no need to worry about replacements or difficult repairs.
Engine Specs & Speed
This new UTV is tougher and more powerful than its previous model from the inside out. Kubota's RTV520 sports a powerful 2-cylinder liquid-cooled EFI engine with a total displacement of 514 cc and a maximum horsepower of 17.4. This upgraded engine delivers reduced vibration and a quieter ride for the operator. Not to mention, with 440 lbs. of cargo capacity and a towing capacity of 1,168 lbs., the RTV520 can do it all.
This Kubota mid-sized utility vehicle features a Variable Hydrostatic Transmission and has a maximum traveling speed of 25 mph. And with a 5.1-gallon fuel tank, there's no doubt you'll have plenty of time in between refills.
Dimensions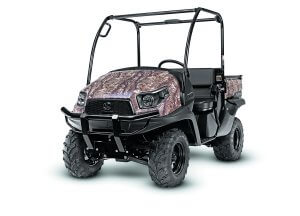 With the new RTV520's slim profile, you can go places that larger Kubota utility vehicles just won't fit. Here are the exact sizing specifications:
Length: 105.1 in.
Width: 54.7 in.
Height: 74 in.
The vehicle also features an improved 5-link rear suspension system that improves rider comfort and prevents the vehicle from bottoming out.
Accessories
Customize your ride with a wide range of accessories like a front guard, glove box, winch, snowplow, and alloy wheels. According to Kubota reviews, these are a few of the favorites:
Modular Cab – Upgrade your style and stay protected from the elements in your RTV520 with a rugged, durable poly cab enclosure kit. It includes:
Poly windshield
Hard cab component mounting kit
Acrylic rear panel
Plastic canopy
Plastic door kit
Hydraulic Bed Lift Kit – Say goodbye to your manual dumping bed lift and hello to an electric dumping bed lift.
LED Light Bar Kit (Front and Rear) – Get your UTV ready for off-road driving with six high-intensity LEDs. Mount them in the front and back of your vehicle.
Multivolt 10-30V DC
Measured lumen: 1,000 lm
Mounting: upright or flush
Pricing
Kubota is offering the RTV520 UTV starting at $9,899. General-purpose and deluxe configurations are available at certain locations. Call your local authorized Kubota dealership today for availability details.

Test Drive the New Kubota RTV520 UTV at Bobby Ford
When you need a top-notch utility vehicle that can handle any job you throw its way, the Kubota RTV520 has you covered. These powerful vehicles are designed for small property owners and large-scale contractors alike. So, see for yourself what these Kubota utility vehicles are all about and test drive one today!
Bobby Ford Tractor and Equipment is your go-to Kubota dealer in the Greater Houston Area. Our family-owned and operated business has years of experience providing our customers with convenience, comfort, and affordable prices. Visit our website now for Kubota reviews from top customers.
To learn more about our range of Kubota utility vehicles, contact us online today or check out our equipment specials.
The content on this site reflects my own opinions and does not necessarily reflect the views or opinions of my employer or Kubota Tractor Corporation.