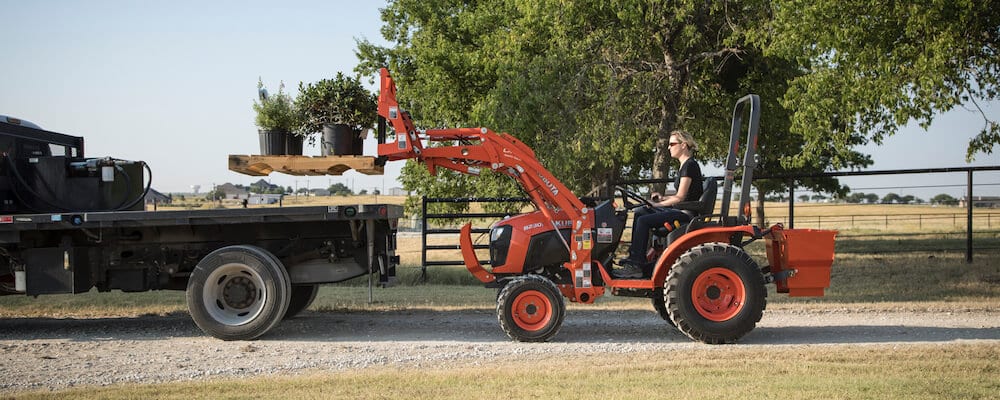 Kubota compact tractors are versatile and efficient machines that can be enhanced with various attachments to suit different tasks and applications. From front loaders and backhoes to rotary cutters and tillers, these attachments can greatly expand the capabilities of your equipment. Below, we explore some popular Kubota compact tractor attachments and their benefits in helping you tackle different jobs with ease and efficiency.
Must-Have Compact Tractor Attachments
When it comes to attachments for your compact tractor, there are numerous options available to enhance its versatility and functionality. Some commonly used attachments for compact tractors include:
Common Attachments for Compact Tractors
Front-end Loaders: A front-end loader attachment allows you to lift and move materials such as dirt, gravel, or logs.
Backhoes: A compact tractor backhoe attachment enables you to dig trenches, excavate, or perform other digging tasks with ease.
Mowers: A mower attachment is ideal for maintaining lawns, fields, or large areas of grass. Different types of mowers are available, including finish mowers, rotary cutters, and flail mowers.
Whether you're looking for a loader attachment, a backhoe attachment, or any other type of attachment, Bobby Ford Tractor and Equipment has got you covered. Visit our Kubota dealership in the Greater Houston Area today!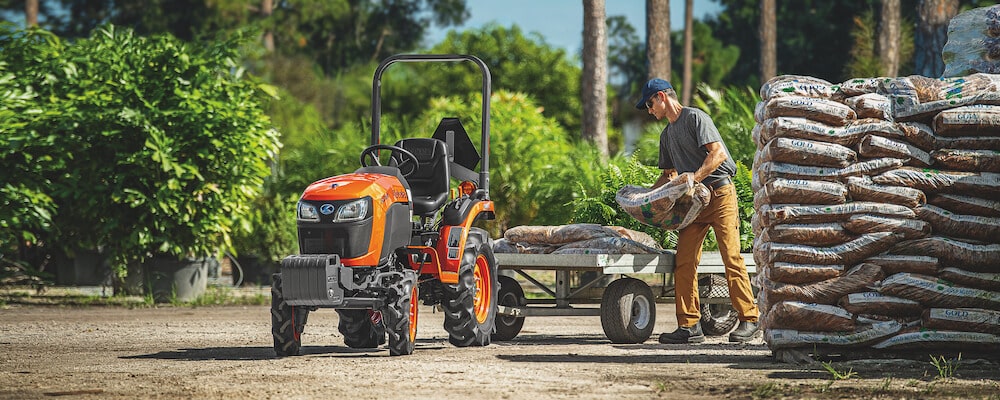 Specialized Attachments for Specific Tasks
Post Hole Diggers: A post hole digger attachment allows you to dig holes for installing fence posts, signs, or other structures.
Tractor Landscape Rakes: A landscape rake attachment is used for clearing and leveling debris from soil, rocks, and other materials. It is commonly used for landscaping projects, preparing soil for planting, and maintaining gravel driveways.
Grading Scrapers: A grading scraper attachment is ideal for grading and leveling surfaces such as driveways, dirt roads, and parking lots. It can also be used for removing snow and spreading gravel.
Tillers: A tiller attachment is used for breaking up soil and preparing it for planting. It is especially useful for gardening and landscaping projects.
Front Mount Brooms: Front mount brooms are attachments that mount to the front of your compact tractor. They are primarily used for sweeping and cleaning surfaces such as sidewalks, parking lots, or streets. They are equipped with durable bristles that effectively collect debris and dirt.
Trenchers: A tractor trencher attachment is designed for digging trenches quickly and efficiently. It is commonly used for installing utilities, irrigation systems, or drainage lines. This attachment can dig precise trenches of varying depths, helping you easily complete trenching projects.
Whether you need to mow, plow, dig, lift, or transport materials, Kubota offers a selection of high-quality attachments designed specifically for their compact tractor models.
Accessories To Enhance Functionality and Convenience
Grapples: A grapple attachment is designed to handle bulky, loose materials such as logs, rocks, or debris. It provides a tight grip and makes it easier to transport these materials.
Forks: Fork attachments are used for lifting, carrying, and moving pallets, bales, or other materials. They are commonly used in agricultural, construction, and industrial settings.
Box Blades: A box blade attachment is used for grading and leveling uneven surfaces. It consists of a metal box with scarifying teeth and can be adjusted to achieve the desired grading depth.
Quick Hitches: A quick hitch attachment makes it easy to switch between different compact tractor attachments quickly. It saves time and effort, enabling you to be more productive. It is essential, especially if you use multiple attachments for your compact tractor.
Rear Blades: Rear blades are versatile attachments used for various tasks such as grading, leveling, and backfilling. They can be angled and adjusted to create different cutting angles, making them useful for maintaining driveways, roads, or fields.
It's important to consider your specific needs and the tasks you want to accomplish with your compact tractor before choosing the attachments. Additionally, ensure the attachments are compatible with your tractor model and have the necessary power capacity.
Additionally, remember to always refer to the manufacturer's guidelines and follow proper safety precautions when using attachments for your Kubota tractor.
Bobby Ford Tractor and Equipment is Your Trusted Kubota Dealer in Angleton, Texas
When it comes to finding the right compact tractor attachments, look no further than Bobby Ford Tractor and Equipment. With a wide range of high-quality attachments available, we are your one-stop shop for all your outdoor equipment needs. Our knowledgeable staff can help you find the perfect attachment to suit your specific needs and ensure you get the most out of your compact tractor!
Contact us online to learn more about our range of Kubota compact tractor attachments, or check out our equipment specials.
The content on this site reflects my own opinions and does not necessarily reflect the views or opinions of my employer or Kubota Tractor Corporation.